Complete this M&A course to:
Avoid strategic missteps in M&A negotiations

Head-off risks to realizing the economic benefit of a transaction

Limit uncertainty and post closing disputes
Curriculum
Live online Friday, May 12, 2023
10:00am - 4:30pm (CST) 
M&A negotiation principles
Understanding personas and deal dynamics
Establishing trust, building coalitions, and communicating persuasively
Planning and implementing a distributive negotiation strategy
Understanding decision-making frameworks in negotiations
Defining bottom lines and deal targets / BATNAs
Setting expectations for negotiation outcomes
Determining the counter parties decision structures
Exercise: self-assessment of your negotiating style

Forming a negotiation team for each deal
Negotiating in multi-party situations
Negotiating deals in an accelerated process
Negotiating deals in a slow process or with an extended close period
Negotiating acquisitions with current business or JV partners
Negotiating deals during a rapidly changing environment
Navigating deals with founder dynamics
Working with emotional counterparties
Case study: Pierre Foods Acquisition of Advanced Foods

Advanced negotiation methods
Understanding the effect of culture on M&A negotiation
Working with risk averse or emotional negotiators
Trust and ethics in negotiation / deal with lying
Dealing with deal leaks / leaking deals to influence the negotiation process
Effective negotiations with the counterparties M&A advisors
Understand interests, rights, and approaches to dispute resolution
Dealmaking simulation: participate in a multicultural, multiparty, multi-issue simulation
Faculty
Sergio Letelier is Senior Vice President and Head of Corporate Development at Hewlett Packard Enterprise.
Previously, he was Deputy General Counsel - Corporate, Securities and M&A, which included responsibility for Corporate Compliance and Governance matters as well as support for HPE's worldwide Tax Department around corporate restructurings.
Mr. Letelier joined HP France's legal department in 2002 as corporate lawyer. He subsequently joined HP's Corporate, Securities and M&A EMEA section in 2004 and worked on a variety of M&A transactions, integrations, restructurings and governance matters before assuming the role of Corporate, Securities and M&A International Operations Director in 2008.
He earned a Master's and a Postgraduate degree in Law from the University of Paris Pantheon-Sorbonne, a Master of Laws from the University of Cologne in Germany, and a Postgraduate degree in taxes and international financial strategy from HEC Paris.
Awarded Upon Completion
You will receive 5.5 CLE (if applicable) and course certification for LinkedIn.
You will also be invited to join a confidential discussion space for exchanging ideas, best practices, recommendations, and information with other M&A Master Class alumni.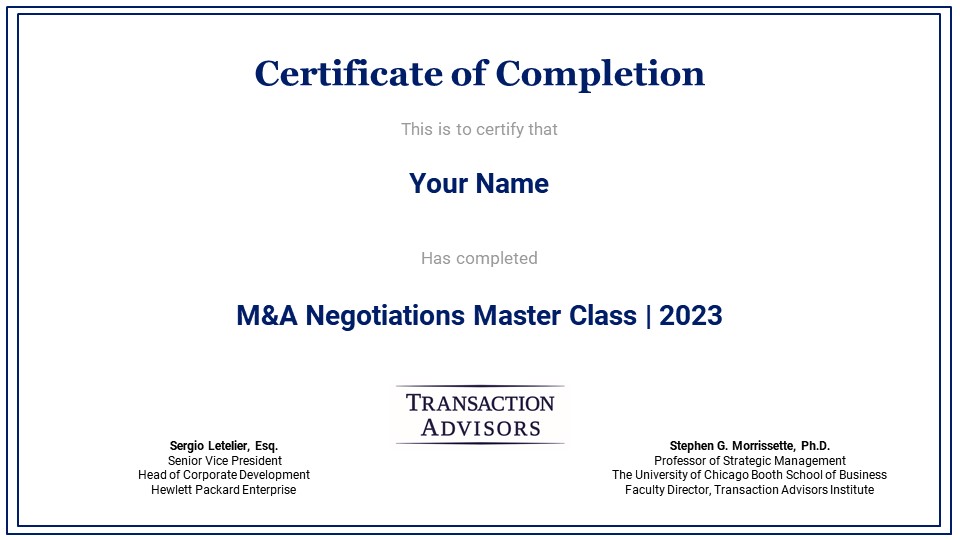 I have had the opportunity to take multiple negotiations courses throughout my professional career and this one is by far the best! Content included a myriad of practical tools to use, various frameworks with which to apply those tools, and most importantly, negotiating strategies and scenarios. Excellent course and highly recommend!
This class is super helpful and crystal clear to highlight the framework and principles I should use to start the negotiation. And there are lots of effective techniques shared among the class.
Enjoyed learning and connecting with others through real stories of the issues others have faced and the potential solutions to navigate sticky situations. It helped to not only validate a lot of what I had been intuitively doing so far in my career, but also provided a more holistic toolkit for me to apply going forward.
This was an excellent crash-course in negotiation tactics and techniques; Sergio was a fantastic lecturer.
This class opened my eyes to negotiating techniques that I wasn't aware of.
YOU MIGHT ALSO CONSIDER

Structuring Joint Ventures
This M&A Master Class focuses on the specific decisions, information, and actions that will likely be required during the formation and governance of a joint venture.